Choctaw Websites was founded in 2021 by McAlester, OK residents Sash Johnson and Steve Johnson. Finding a top notch McAlester website design company has been difficult for many businesses in the Pittsburg County area. Fast customer service, reasonable pricing, and a 30-day guaranteed completion date, are now available for McAlester area businesses.
What Makes Choctaw Websites Better?
Small businesses looking for a McAlester website design company will love the level of expertise offered by Choctaw Websites…
Your website will be designed by real human beings, not robots.
Your website will be built here in the USA, not outsourced overseas.
Your website will be completed and online within 30-days of starting work, or else all money you paid will be refunded to you.
Your website will outperform those built by competing design companies in terms of visibility, conversions, and uptime.
Your website will be built using 30+ years of publishing, design, and marketing expertise.
Your website will be hosted on fast, secure cloud servers, just like the big IT companies.
Guaranteed responses from a real human being here in Oklahoma, within 24 hours of your e-mail, voice message, or text.
Meet Choctaw Websites
Choctaw Websites, the newest McAlester website design company, was launched in 2021 by two long-time veterans of the publishing industry…
Sash Johnson – Got her start in the magazine business as a feature writer for Mademoiselle Magazine. When the magazine folded in 2001, she continued writing for Country Review Magazine, a publication focused on rural living in Southern California. She went on to handle layout design, pagination, advertising design, and eventually account management and sales. She moved into online publications with 951 Magazine and Menifee 24/7.
In 2012, Sash launched "Too Much Tina", a marketing consulting business, and was hired by Society of American Indian Dentists. A member of the Choctaw Nation of Oklahoma, Sash and her husband settled in McAlester and launched Choctaw Websites.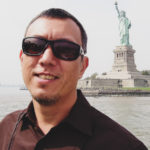 Steve Johnson – Got started with computers in the late 1970s playing with his step-father's Unix mini-frame. He got his first personal computer in 1980 and honed his programming skills. Steve worked for software companies throughout the 1990s and 2000s focusing on health insurance claims processing systems. In 1996 he began building websites as a hobby, and in 1999 began earning an income building them for profit.
In 2001, Steve launched, "CousinConnect" and "AdopteeConnect" websites designed to reunite parents, children, and siblings separated at birth, and over the next 15 years successfully reunited hundreds of thousands of people, until he sold the websites to a DNA genealogy company. In 2020, when he and his wife moved to McAlester, they launched Choctaw Websites.
Give Your Business a Million Dollar Makeover!
Small businesses looking for a McAlester website design company now have access to a team of world-class designers. You shouldn't have to pay a ridiculously high price for a website that looks amateurish. Choctaw Websites will will design you a website that looks like someone paid a million bucks.
Choctaw Websites was created to give your business the same modern look and performance that businesses get in places like Los Angeles, New York, or Seattle. Your business' website can now look, perform, and impress without the six-figure price tag of big city markets.
Websites Built by Real Humans, in the United States
Whereas most website design companies in the United States are now outsourcing labor to sweatshops in China, India, and Russia, Choctaw Websites hires only U.S. citizens living here in the United States.
Moreover, sweatshops in China, India, and Russia are using robots to build websites. Their employees simply "clean up" websites after they are built. Otherwise, the websites they build are all "cookie cutter" and all look the same.
Choctaw Websites does not utilize robot builders. All websites we build are built by hand, by a real human being who has taken the time to review your business, study your demographic, research relevant keywords, and handwrite marketing copy.
Contact Us and Let Us Show You How Amazing We Are!
Contact us here, and ask us any question you have. Are you located somewhere in Oklahoma? How about we get together and talk about it over coffee!